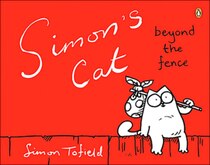 Last week I found this wonderful item on sale. This is the second book following
Simon's Cat
- only this time he boldly ventures out of doors. There are so many great stories within this book, and they are all told by drawings - there is not a single word in the whole work! This charming, funny and mischievous cat gets into a lot of trouble and quite a few peculiar situations. I love cats. This book (as well as the first one) got me laughing really good. I hope you love it as much as I did! Enjoy the teaser!
Simon's Cat: Beyond the Fence by Simon Tofield
There are also loads of animations of Simon's Cat on YouTube, if you would like to see more.
More teasers:
Flukten fra virkeligheten
Should Be Reading